Infected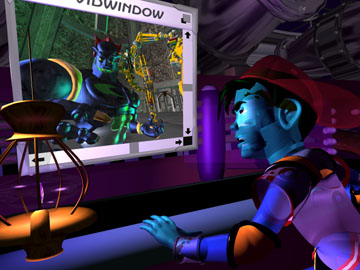 Written by:
Martin Borycki
Story by:
Gavin Blair, Phil Mitchell, Ian Pearson, Lane Raichert
What happen:
The episode starts with a view straight down on the top of the Principle Office. The sub sphere opens up to reveal Dot and Phong standing on a platform atop the main sphere. The "voice of doom" is heard, but instead of announcing an incoming game, it intones "Attention, incoming file". This excites the various binomes throughout Mainframe. A flashing orange and yellow fog, with a circular tunnel, accompanies the incoming file. Phone comments that the Upgrade File has arrived a little earlier than he expected.
The file lands on the platform, it is in a sealed drum. Dot hopes for a new data compression unit, or a quantum business network maximize. Phong wants better devices with which to fight the viral evil. The pinnacle descends into the Core, the very heart of Mainframe.
Enzo is rousing the rabble, demanding upgrades, now. Everyone else is on the lookout, to keep Megabyte away during the upgrade. Phong announces to all of Mainframe to prepare for power-down and upgrade. Bob is given the honor of pressing the big green button, turning it red and starting the sequence that brings Mainframe to a halt. The sky turns sunset colored, the flow of bits stops, and the Principal Office is covered with a blue-gray armor force field. Bob and Phong open the lid, and out pops Megabyte.
MB gives Phong a shock, and avoids Bob's attempt to put him back into the file container. He knocks Bob off of the wall, causing the Guarding to fall down the cracks of the Core. Phong won't give into MB, "you cannot infect me, virus", to which Megabyte agrees. But he can copy Phong's Read-Only Memory to get the entry codes. During the transfer, both Phong's brain and Megabyte's brain are visible through their skulls.
MB uses the Pinnacle Elite commands to drop the sphere further inside, to the Core Control Chamber. Bob is left hanging several hundred feet up. His comment: "Megabyte in the Core? I don't think so!" Dot tries to warn the others outside, but the can't get a message through the armor. Megabyte plans to erase Mainframe and rebuild it in his image.
Bob comes swinging in and almost succeeds in knocking MB into the Core Reactor. "Glitch: Electopulse" propels Bob over MB. "You want to play cat and mouse? Maybe we need some cheese" says Megabyte as he lunges for Dot and Phong. "Glitch: Energy Shield" causes yellow bands of light to protect his friends. MB bounces off it, heading straight for Bob. "Glitch: anything" results in an orange light post that MB clangs into. "Like falling off an analog," gloats Bob. But Megabyte is quick to his feet. "Glitch: Elevator". Nothing happens, other than Glitch's display showing a battery with no energy left and a frowny face.
Dot tries to drag Phong away, but does not make much progress. He orders her to save herself. Phong uses the command "Zip, Zip, Zoom" to enable a transporter field. Bob grabs Dot and uses the field to get away from Megabyte, who shows off some really ferocious teeth as he roars in frustration. Bob and Dot run down a tunnel, looking for a recharge unit, while MB gives barks out "COMMAND.COM - ERASE".
MB unleashes Phong's game pucks, programmed as weapons. Bob gets Dot to use the jumper cables on her organizer to give power to Glitch. Glitch's double-header shield moves the two out of the way and allows two groups of pucks to annihilate each other.
"C.P.U" exclaims Enzo, "I don't like the smell of this" as the environmental shutdown is announced. The inhabitants of Mainframe start to turn transparent as their energy is cut off. There is an earthquake, and various towers start falling. Even the 8-ball above Bob's apartment falls off.
Hexadecimal complements Megabyte on the delightful mess he is making. "You wouldn't be trying to delete me, now would you?" she asks. "Now is that any way to treat family," MB replies. He assures her of 50/50 control.
In the mean time, Dot gets into the Mainframe Armory as Bob goes past the statue of JL SENIOR to get to the Read-Only Room. As Bob is recharging Glitch, a hologram of Phong appears. "You have what you need, now use his greed" it says. Bob is so angry he is quivering.
Megabyte checks up on the Diner, were the binomes are reduced to almost nothing but eyeballs. As he is gloating, Dot sneaks up behind him wearing the forklift exoskeleton. Dot has the advantage but MB knocks her off balance. Bob shows up and immobilizes MB, but the master virus takes over Dot's exoskeleton suit by infecting it, turning it from yellow to blue. "Sorry Bob, I can't control myself." "Funny, I've always known that." Megabyte demands access to the Portal, and Bob agrees to keep from having his head crushed.
The Portal is exposed; it is a shiny sphere reflecting the same scene that is as the opening of every show - blue and green skyscrapers floating above a yellow and black sea. It is beautiful. Once MB enters the Portal Room, Bob commands Glitch to lock the door. But it is really a virus decontamination chamber. Just before MB is broken apart, it triggers a self-destruct command. To save them all, Bob ejects the chamber, which deposits Megabyte at the foot of his Silicon Tor. Just then the real upgrade arrives.
Energy returns to Mainframe, the fallen towers right themselves, and a loopy Phong shows up. "Who knows, maybe I'll get a new modem".